Holding Information
Collection: Eli P. Zebooker Collection
Institution: Athenaeum of Philadelphia
Drawn & Engraved by W. Birch & Son

12.25 x 14 inches
Quantity: 1
Local Call: 237-PR-028
Item dates: 1799
Holding types: Prints
Documented Architects, Engineers, and Others
There are no architects, engineers, or others linked to this record.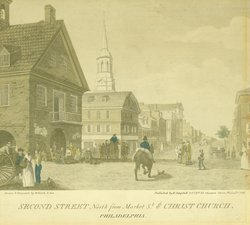 [Second Street, North from Market St. wth Christ Church. Philadelphia]
(1799)
Eli P. Zebooker Collection, Athenaeum of Philadelphia.
Local ID #: 237-PR-028

Philadelphia Architects and Buildings | About | Participating Institutions | Feedback | Search | Login
Website and System: Copyright © 2023 by The Athenaeum of Philadelphia.
Data and Images: Copyright © 2023 by various contributing institutions. Used by permission.
All rights reserved.