Holding Information
Collection: Theophilus P. Chandler, Jr. Collection
Institution: Athenaeum of Philadelphia
details -- Cambridge, England
Quantity: 1 drawing
Local Call: CHN*123
Item dates:
Holding types: Tissue drawings
Documented Architects, Engineers, and Others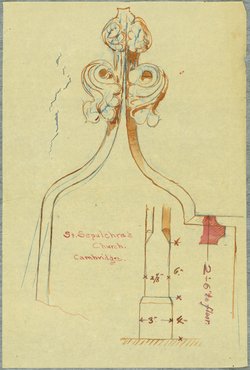 [Saint Sepulchre Church]
(T. P. Chandler Jr.)
Theophilus P. Chandler, Jr. Collection, Athenaeum of Philadelphia.
Local ID #: CHN.123.001

Philadelphia Architects and Buildings | About | Participating Institutions | Feedback | Search | Login
Website and System: Copyright © 2020 by The Athenaeum of Philadelphia.
Data and Images: Copyright © 2020 by various contributing institutions. Used by permission.
All rights reserved.