Holding Information
Collection: Mellor, Meigs & Howe Collection
Institution: Athenaeum of Philadelphia
Client Name: Meigs, Edward B.,
Quantity: 1 drawing : ink on linen ; 41.5 x 87.9 cm.
Local Call: MAM055*001
RLIN: PAPV92-F858
Item dates: 1912
Holding types: Ink drawings
Documented Projects
Documented Architects, Engineers, and Others
Location
Massachusetts (Wood Hole)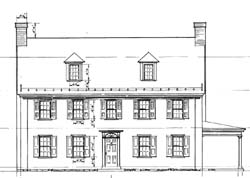 [House at Wood Hole, Mass. for Dr. Edward B. Meigs, 709 Pine St., Philadelphia, Pa.]
[Meigs, Edward B.,]
[plans and elevations]
(Mellor and Meigs, architects, 5/18/1912)
Mellor, Meigs & Howe Collection, Athenaeum of Philadelphia.
Local ID #: MAM055 001

Philadelphia Architects and Buildings | About | Participating Institutions | Feedback | Search | Login
Website and System: Copyright © 2023 by The Athenaeum of Philadelphia.
Data and Images: Copyright © 2023 by various contributing institutions. Used by permission.
All rights reserved.