Holding Information
Collection: Wainwright Lithograph Collection
Attribution: W. L. Breton, delt.

Printer: [Kennedy & Lucas]

Date: [1831]


Quantity: 1 drawing
Local Call: LCP P.9830.2 a&b and in Am 1831 Mea 68582.D; Am 1831 Mea Log 4072.D; and Am 1831 Por 20876.
Item dates: 1831
Holding types: Lithograph
Documented Architects, Engineers, and Others
There are no architects, engineers, or others linked to this record.
Location
([Arch Street and Delaware River])


Philadelphia, PA




> Search near this location

> View location in Google Maps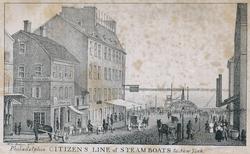 Philadelphia Citizen's Line of steam boats to New York & Baltimore.
(W. L. Breton, delt., 1831)
Wainwright Lithograph Collection, Library Company of Philadelphia.
Local ID #: W283

Philadelphia Architects and Buildings | About | Participating Institutions | Feedback | Search | Login
Website and System: Copyright © 2021 by The Athenaeum of Philadelphia.
Data and Images: Copyright © 2021 by various contributing institutions. Used by permission.
All rights reserved.