Source Information
White, William P., and William H. Scott, Presbyterian Church in Philadelphia, A Camera and Pen Sketch of Each Presbyterian Church and Institution in the City. Philadelphia: Allen Lane & Scott, 1895, p. 58
Project Information from this Source
Project name: First Church of Manayunk
Project types: church
Denominational affiliation: Presbyterian
Cited Projects
Cited Architects, Engineers, and Others
There are no architects, engineers, or others linked to this record.
Location
Centre Street near HIGH ST


Philadelphia, PA




> View location in Google Maps
Comments
"The congregation erected a one-story stone building during the first pastorate in 1833....In 1869...a manse was erected on an elevation overlooking the beautiful Valley of the Schuylkill."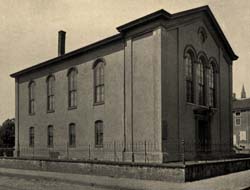 [First Church of Manayunk]
First church of Manayunk, Corner Centre and High Streets. [Courtesy of the Presbyterian Historical Society]
Local ID #: 058
White, William P., and William H. Scott, Presbyterian Church in Philadelphia, A Camera and Pen Sketch of Each Presbyterian Church and Institution in the City. Philadelphia: Allen Lane & Scott, 1895, p. 58
Philadelphia Architects and Buildings | About | Participating Institutions | Feedback | Search | Login
Website and System: Copyright © 2021 by The Athenaeum of Philadelphia.
Data and Images: Copyright © 2021 by various contributing institutions. Used by permission.
All rights reserved.