Source Information
Engelhardt, George Washington, Philadelphia Pennsylvania, The Book of Its Bourse & Co-operating Bodies, Philadelphia, Lippincott Press, 1898-99., p. 323
Project Information from this Source
Project name: McCallum & McCallum
Project types: factory
Cited Projects
Cited Architects, Engineers, and Others
There are no architects, engineers, or others linked to this record.
Location
Philadelphia, PA ("Wayne Junction")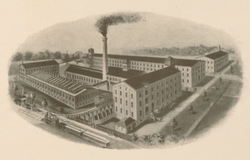 McCallum & McCallum
Local ID #: PhilaBourse-323a
Engelhardt, George Washington, Philadelphia Pennsylvania, The Book of Its Bourse & Co-operating Bodies, Philadelphia, Lippincott Press, 1898-99., p. 323
Philadelphia Architects and Buildings | About | Participating Institutions | Feedback | Search | Login
Website and System: Copyright © 2021 by The Athenaeum of Philadelphia.
Data and Images: Copyright © 2021 by various contributing institutions. Used by permission.
All rights reserved.