Source Information
King, Moses. Philadelphia and Notable Philadelphians. New York: Blanchard Press, Isaac H. Blanchard Co., 1901., p. 54
Project Information from this Source
Project name: Mutual Fire Insurance Company of Germantown
Project types: office building
Cited Projects
Cited Architects, Engineers, and Others
There are no architects, engineers, or others linked to this record.
Location
5521 GERMANTOWN AVE (just beyond Market Sq) Browse this block
Philadelphia, PA




> Search near this location

> View location in Google Maps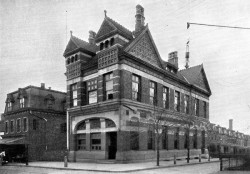 Mutual Fire Insurance Co. of Germantown. King, Moses. Philadelphia and Notable Philadelphians. (New York: Blanchard Press, Isaac H. Blanchard Co., 1901), p. 54.

Philadelphia Architects and Buildings | About | Participating Institutions | Feedback | Search | Login
Website and System: Copyright © 2020 by The Athenaeum of Philadelphia.
Data and Images: Copyright © 2020 by various contributing institutions. Used by permission.
All rights reserved.